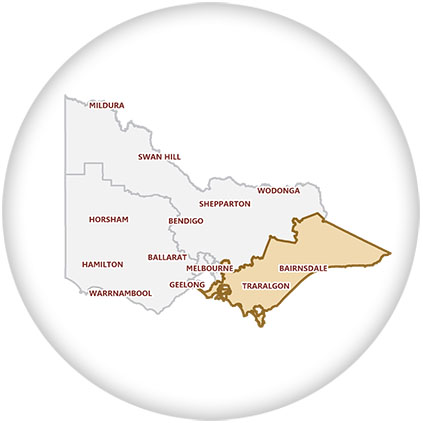 Eastern Victoria Region is one of the eight electoral regions in the state of Victoria, which elects five members to the Victorian Legislative Council (also referred to as the Upper House) by proportional representation. The region was created in 2006 by the 2005 reform of the Victorian Legislative Council.
Mostly a rural demographic, it comprises the Legislative Assembly districts of Bass, Evelyn, Gembrook, Gippsland East, Gippsland South, Hastings, Monbulk, Mornington, Morwell, Narracan and Nepean.
The electorate has 479,070 electors (as of 2014) and covers an area of 44,456 square kilometres.
Natural features include Wilsons Promontory National Park, the Dandenong Ranges National Park, The Great Alpine National Park, the Gippsland Lakes and the Ninety Mile Beach. The Region also includes Corner Inlet, the Snowy River country, Mount Baw Baw, and a series of lakes and islands including Phillip Island, French Island and the Mornington Peninsula.
Industries include tourism, farming, timber and power production.
Melina's electorate office is centrally located on the main street of Traralgon in the vibrant Latrobe City.
Keep in touch with Melina online as she connects with your community.
Subscribe to Melina's regular newsletter to stay informed about issues relating to Eastern Victoria.